Saiyyam Kochar
UX Designer and Developer
Rant!
Communication platform to exchange disappearing voice chats with your friends.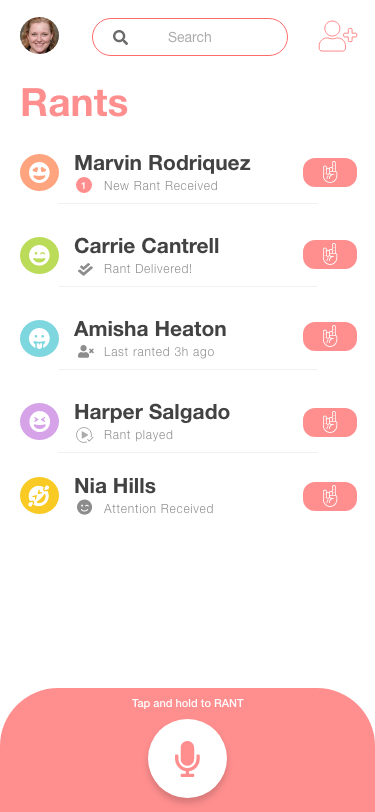 Find Rant! on the Apple App Store!
Click on the button below to download Rant! on your iPhone.
My Role
Solo UI/UX Designer, and UX researcher for all aspects of the project.
Tools used : Adobe XD, SurveyMonkey.
Team
Ansh Chopra : Co-founder, Project Manager, Full Stack Developer
Saiyyam Kochar : UI/UX Designer, UX Researcher
Rushil Nagarsheth : Co-founder, Full Stack Developer
Aryan Dang : Full Stack Developer
Kevin Chiu : Full Stack Developer
Timeline
June 2022 - August 2022
3 Months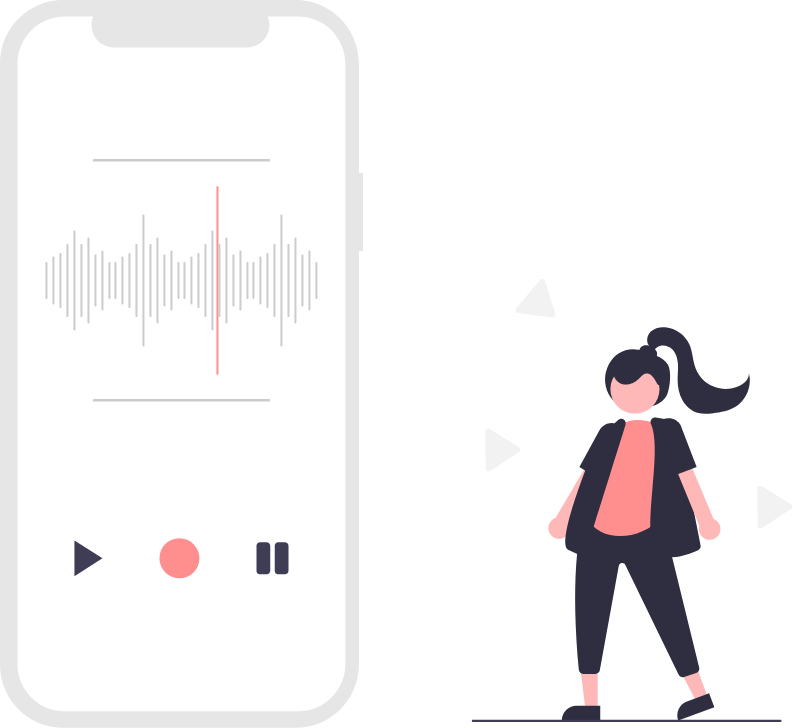 What is Rant?
Rant is a communication platform that allows users to exchange disappearing voice chats with their friends. The application is designed to be simple and intuitive, making it easy for users to send and receive voice messages without having to navigate through multiple screens or menus.
Rant is focused on personal and emotional communication, providing users with a more efficient and intimate way to stay in touch with their close friends and family.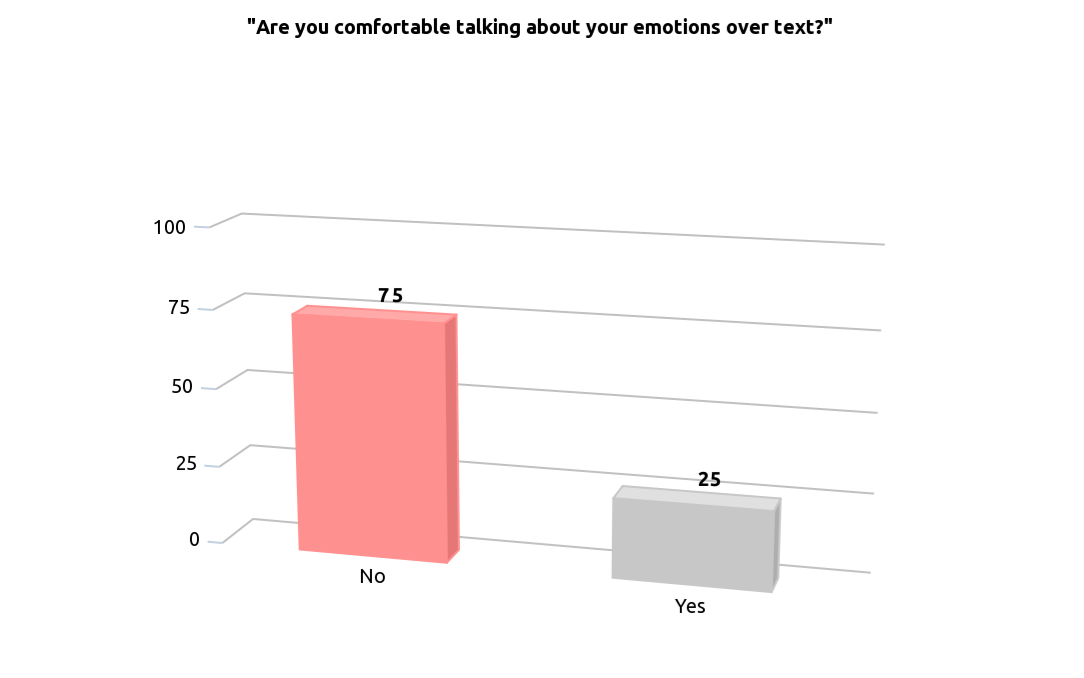 Inspiration
The team at Rant recognized that, while text messaging is convenient and widely used, it can be impersonal and lack the emotional nuance of voice communication.
To validate this idea, the team conducted a survey in a college town, where they found that 75% of the participating students of age 18-22 agreed that they were not comfortable talking about their emotions over text because texts are saved and can misused.
This finding supported the idea that there was a need for a messaging application which provided a more authentic and meaningful way for users to connect with their friends.
This process, ultimately, led to the birth of Rant!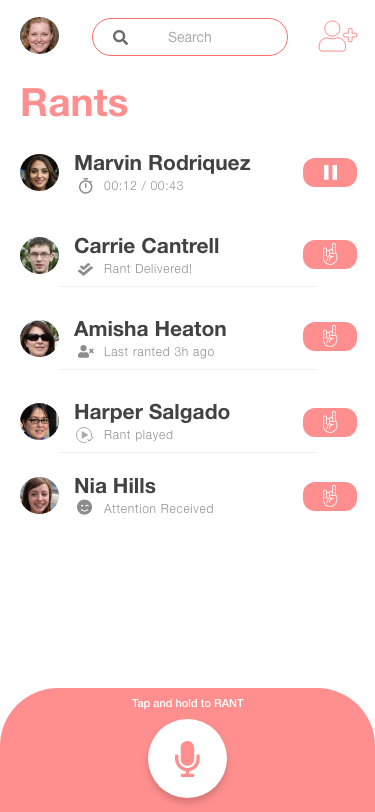 What does Rant do?
While building Rant, we focused on developing a user-friendly yet an engaging and appealing solution.
After users have logged into the application, they can add friends to their contact list by either importing their phone contacts or by entering their Rant! username.
Once they have added their friends, users can start sending and receiving disappearing voice messages by clicking on the big record button on the dashboard and selecting the desired contact.
In addition to sending voice messages, users can click on the wave button right next to their friend's name, which will send them a notification letting them know that they're thinking of them.
This feature is a great way for users to stay connected with their friends and let them know that they're missed.
"Say what you mean, and mean what you say!"
Brainstorm
In order to create a robust and uncomplicated user experience, our team at Rant began by outlining the features and user flow of the application.
We focused on creating a straightforward navigation system that would be easy for users to understand and use.
To do this, we carefully considered the needs and preferences of the target audience, as well as the overall goals and vision for the product. We brainstormed and discussed various ideas and options, ultimately settling on a set of features and a user map which we believed would best meet the needs of our users and support the overall vision of the product.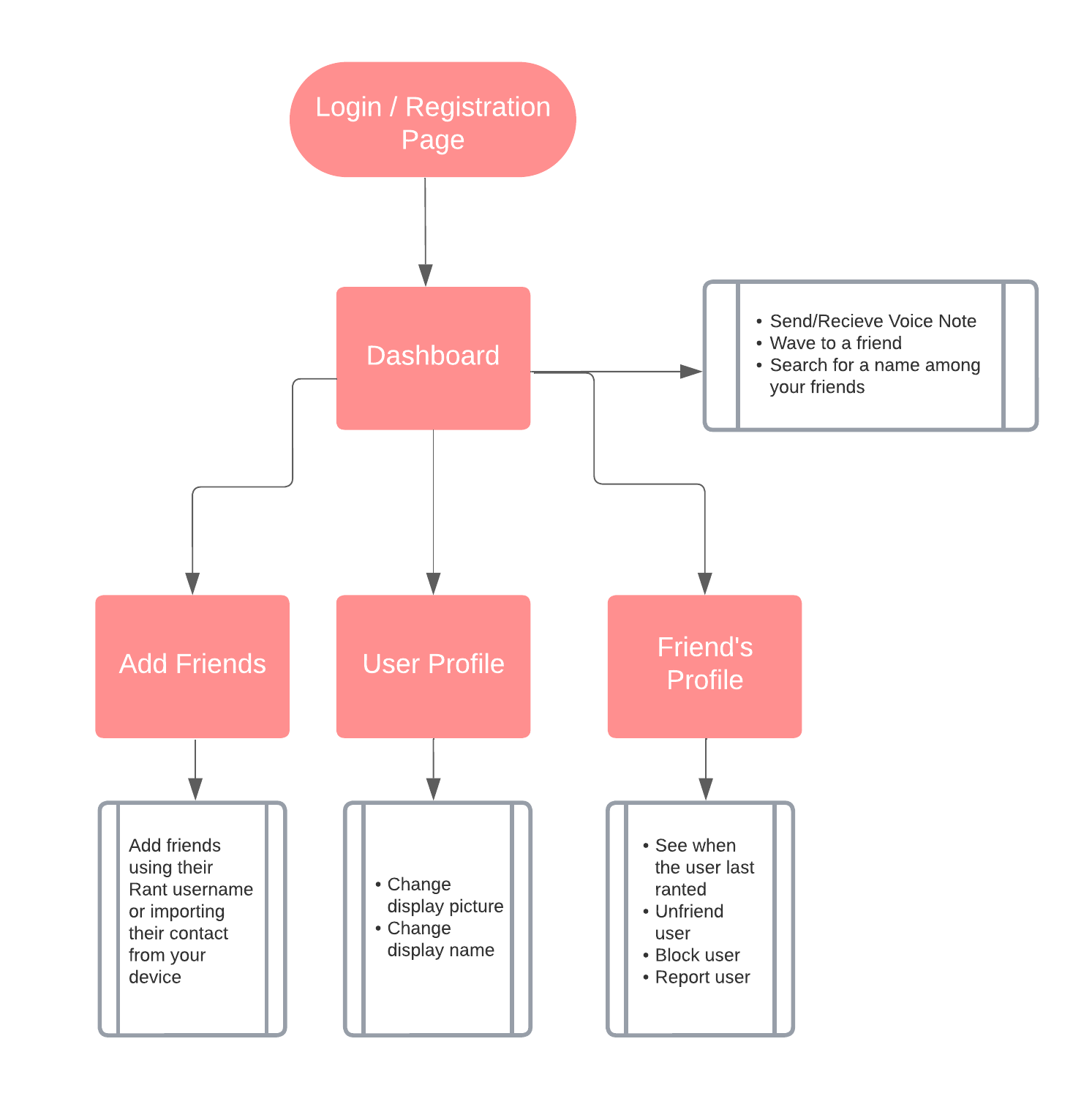 Edge Scenarios
Some more questions our team discussed upon before designing the high-fidelity prototype of the application.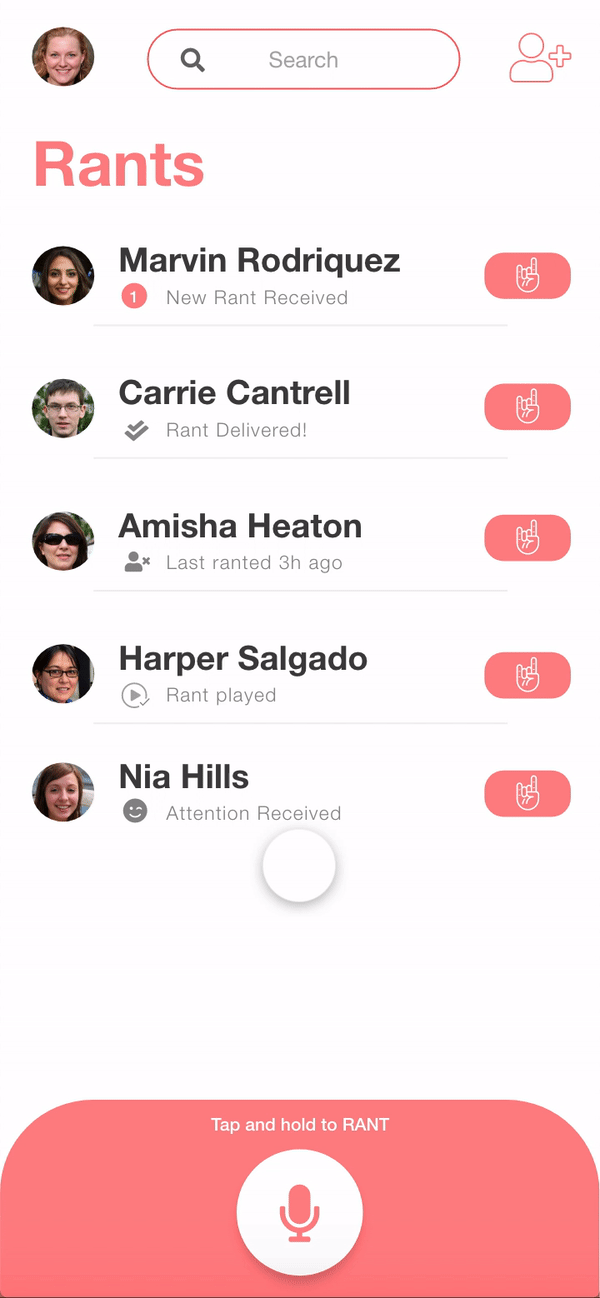 Responsibilities
Once the application's features, low-fidelity prototype, and user flow was decided, I hopped onto my favorite part - designing the screens!
I used Adobe XD to design over 25 screens based on all the brainstormed features, keeping in mind the idea of quickly sharing a voice note, and limiting the number of clicks a user had to do before sharing the note.
In addition to designing the screens, I also worked on creating animations, graphics, and choosing appropriate fonts, colors, and other visual elements to enhance the overall look and feel of the application.
I also conducted user testing workshops to gather feedback and identify any issues with the design, which, ultimately, led to a 30% increase in the number of downloads of the application.
High-Fidelity Prototypes
Collection of some significant screens of Rant.

Color Palette
A color scheme that was diligently selected and fine-tuned for Rant in order to meet the following objectives :
Poppy red is often associated with emotions such as love, passion, and, excitement.

This color is eye-friendly and known for its ability to evoke strong emotions and create a sense of warmth and energy which makes it a perfect color choice for an application considering our motto.

We also used a muted grey , and white color as accent colors which helped to create a balance and make the red color look more appealing.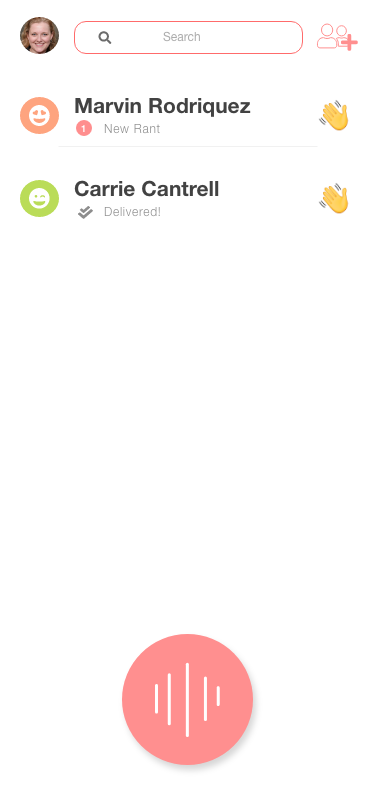 Personal Reflections
During the design process, I realized that we could improve the user experience by eliminating the separate voice recording panel and replacing it with a large, prominent red recording button. This change helped to meet the goals of simplicity and accessibility.
This design decision highlighted the primary function of the application clearly, which is sending voice notes, and helped further decrease the number of clicks needed to send a message therefore streamlining the user experience.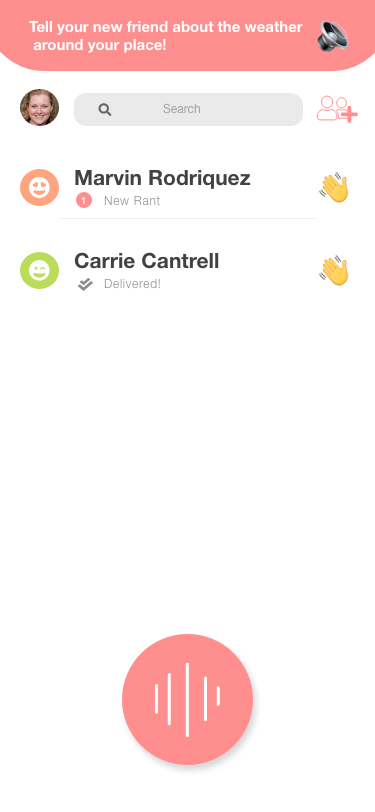 I also incorporated a feature which would randomly generate conversation starters in the form of notifications when a user opens the application.
This feature was added to motivate users to use the application more frequently, and to initiate conversations, break ice, and keep the conversations flowing 🌊
Rant Loud, Rant Proud 🗣️
Some key takeaways and learnings from my experience on the Rant project include:
Hands-on experience in user-centered design approach and principles.

Proficiency in prototyping, testing, and user-experience improvement tools such as Adobe XD and Figma.

Developing effective communication, collaboration and teamwork skills while working with a team of designers and developers.

Improving problem-solving and critical thinking skills through addressing various challenges and obstacles during the project.